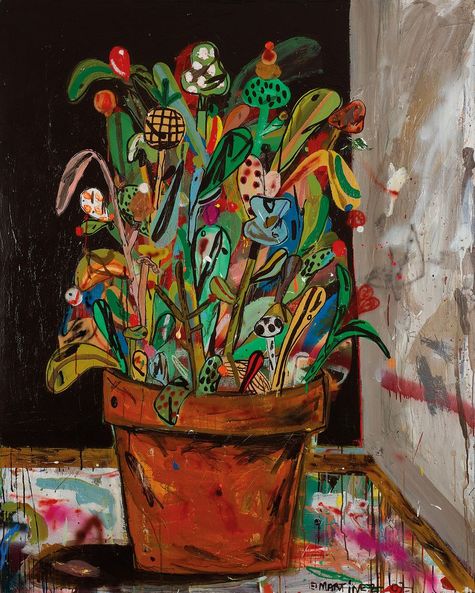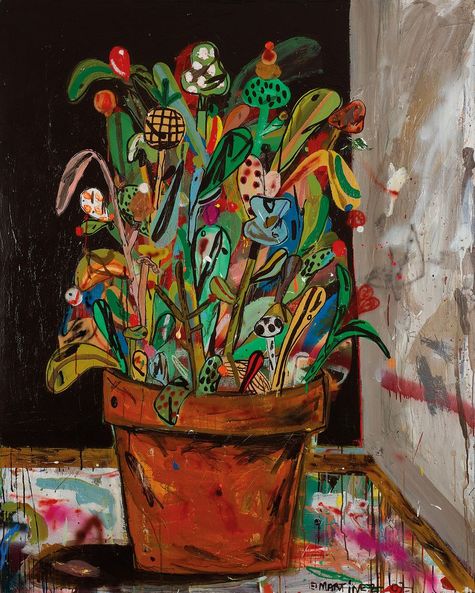 Estimate
TWD 7,000,000-10,000,000
HKD 1,907,000-2,725,000
USD 245,400-350,500
CNY 1,617,000-2,309,000
Sold Price
TWD 9,000,000
HKD 2,500,000
USD 321,429
CNY 2,078,522
---
Signature
Signed lower right EDDIE MARTINEZ and dated 07
Signed reverse EDDIE MARTINEZ, titled OUT OF REACH PLANT and dated 2007

PROVENANCE:
Blum & Poe, Los Angeles
Christie's, New York

EXHIBITED:
So Wrong, I'm Right, Blum & Poe, Los Angeles, June 30-August 25, 2007
+ OVERVIEW
Born in 1977 in Connecticut, U.S.A, Martinez currently resides in Brooklyn, New York. His Latin surname reveals the roots of his South American cultural background. In his earlier figurative style, the people, cats or owls in the paintings often featured big black and white eyes, which may be a projection of his own self-image.

At the same time, Martinez seemed to show a preference for paper media, often integrating sketching techniques into the portrait or still life that he was working on. The large back background created a cute style by showing off objects, such as bright red polka dots or a checkerboard pattern. Martinez stated that his creative spirit and context was influenced by the Dutch CoBrA School. Artists of the school were known for their anti-academy style, sense of speed in art creation, abandonment of control, and automaticity, as well as a large graffiti style similar to children's drawings. The New York Times once described the works of Martinez as "reviving styles of the Cobra painters".

Martinez claimed that as a creator, one should not provide too many instructions to influence how the viewers would interpret artworks. Therefore, his works do not convey a strong sense of social or political criticism. He also disliked comparison of his artworks to those by Willem de Kooning or Philip Guston, or attributing Jean-Michel Basquiat as his inspiration. If it's necessary to define his style, he would rather be called "Messy explosions of Picassos"! He admired Picasso's high productivity and courage to try out various media, daring to experiment and challenge the history of painting.

In 2010, he began to move away from Expressionism, devoting himself entirely to abstract painting starting in 2012. The following year, 2013, was a critical period in his career, when Martinez experimented with sculptures, presenting his exploration of lines, compositions and colors in a three-dimensional format. He combined ordinary daily objects into bronze casts, before granting them new life by applying colorants. In the process of composition and assemblage, he would conduct an exploration of material culture. In 2015, he began to use silkscreen to reinterpret and enlarge paintings and sketches to create rich images. His 2016 Love Letter Series appeared as a magnified version of a notebook, offering an intimate feeling with text and image juxtaposition.

"The Feast" has been used frequently by critics to describe the bountiful still life depicted by Martinez. Just like a modern version of Italian master Michelangelo Merisi da Caravaggio, his still life paintings brought about a rich and abundant visual feast to the viewers. Martinez also excelled at flattening a three-dimensional space, using a bird's eye view for composition to scale down objects as he wished. His 2010 painting New York Electric used a sapphire blue background to highlight the table top full of objects, just as a child spreading out his toy box to show off his toy collection.

The crayon-like thick graffiti outlines delineated toys, playing cards, audio tapes, screws and other objects. The semiconcrete object appearance served as a transition period before the artist's pure abstraction style took hold. Another captivating detail of the painting was the two big-eyed idiot "blockheads" with dark black outlines on a white plaster background. Judging by the artist's creative context, this symbol may be seen as a representation of the artist's selfimage as it has appeared repetitively since 2005. In 2020, Martinez collaborated with AllRightsReserved (ARR) to launch a limited edition of Blockhead Lamp. The lamp was a three-dimensional sculpture of stained glass, which was an extension of this theme.

The painting New York Electric had been displayed in May of 2011 at the Hong Kong International Art Fair 2011 (Art HK 11), as well as the New York Electric Martinez Solo Exhibition held by the Patricia Low Contemporary in Geneva, Switzerland from September to November of the same year. The focus of the exhibition was floral still life and a series of bust portraits.

The dense oil colorants and layers of unrefined brushstrokes added coatings to the fluffy canvas, generating full tension between the two materials. The selection of the media allowed the viewers to observe how the artist identified with the historical context and continued the classic traditional thinking. However, the presentation technique and format were completed in the vocabulary of personalized improvisation. Martinez twice enrolled in art academies, but rejected the constraints of that environment. His selflearning and exploratory creative method enabled him to achieve his unique artistic performance in a care-free style.

Among the world-class galleries that participated in the second annual Taipei Dangdai Art Fair in January 2020, the French-based Perrotin showcased Martinez's Flowers for Taiwan series with one classic topic - still life paintings delivered in the format of colorful graffiti with characteristic brush strokes. During the VIP-preview and vernissage on the first day, all paintings by Martinez sold out swiftly, becoming some of the most noted works at the fair. Several figures in the entertainment community were also present during the VIP-preview event, including international star Jay Chou, who happens to be a friend of Martinez and a collector of his work. Jay also added works by Martinez to his collection that day according the Press.

Martinez did not become famous by accident. A maverick with a quiet and low-key sense of creativity, he has captured the attention of many curators, agents and collectors. Currently, the Mitchell Innes & Nash Gallery in New York and the Timothy Taylor Gallery in London both serve as his agents, while Perrotin, which has a worldwide network, helps with promotions with a focus in Asia. For the past three years, Martinez's popularity has led to successful solo exhibitions at various venues, including galleries, art exhibitions, and auctions in Tokyo, Hong Kong, Seoul, Shanghai and Taipei.

Prized by art institutions in the past three years, Martinez has launched large-scale solo exhibitions at five museums including: Ants at a Picknic at Davis Museum in Massachusetts, Studio Wall at the Drawing Center in New York in 2017, White Outs featuring recent works of sculptures and paintings at Bronx Museum in New York in 2018, and, for 2019, Fast Eddie: New Paintings at the Museum of Contemporary Art Detroit, and the Open Feast solo exhibition at Yuz Museum in Shanghai. Specifically, an epic masterpiece 19.81 meters long was showcased at the Yuz Museum, which incorporated the heart and soul of Martinez filled with a thrilling sense of speed and humor. Overall, each exhibition served as a display of talent and energy, demonstrating Martinez's mature and captivating artistic styles which he has sharpened via more than a decade of creative practice.
Select: Modern & Contemporary Art
Ravenel Spring Auction 2021 Taipei
Saturday, July 17, 2021, 3:30pm