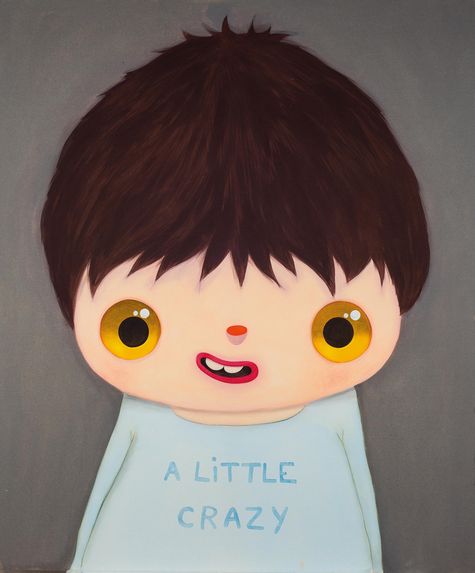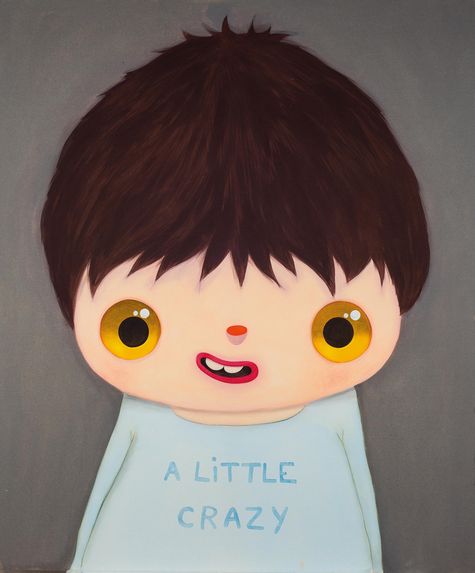 Estimate
TWD 16,000,000-24,000,000
HKD 4,360,000-6,540,000
USD 560,800-841,200
CNY 3,695,000-5,543,000
Sold Price
TWD 26,400,000
HKD 7,333,333
USD 942,857
CNY 6,096,998
---
Signature
Titled reverse A LITTLE CRAZY

PROVENANCE:
Nanzuka Contemporary Art Gallery, Tokyo

EXHIBITED:
Art Basel Hong Kong, March, 2018
+ OVERVIEW
Javier Calleja is a Spanish contemporary artist who attracted the attention of collectors worldwide with his signature "wideeyed boy" self-portraits, which combine text and images. Following the debut of Calleja's first solo exhibition in Spain in 2003, he then brought it to other places in the world, such as Paris, Waldkirchen, Hamburg, and New York. In 2007, he held his first solo exhibition in Asia, where his adorable style swept across the art world. He then began consistently setting new auction records starting from 2019. While Calleja's solo exhibition continuously toured throughout New York, Japan, and Europe, he also collaborated with trendy communities in launching limited edition figures. His fresh and humorous style resonates with collectors across different generations.

Born in 1971, Calleja came from Malaga-the same hometown as Pablo Picasso-a war m city in souther n Spain near the Mediterranean Costa del Sol. Calleja began his art career after graduating from Universidad de Granada's Faculty of Fine Arts in 2000. Tracing the path of his cr eation, he often used daily utensils, such as matchsticks, paper clips, and colored pencils, around 2013 to create whimsical "miniature" scenes on wall corners and fingertips from a displaced viewpoint. In a subcultural way, Calleja has also demonstrated the approach of applying English words and short phrases to highlight the themes of his works. On the contrary, the 3D works on gallery display in 2018 adopted the approach of expanding and enlar ging pencil sketches, notebooks, cats, and slippers into surreal, playful sights. In the early phases, Calleja used a germinated potato, gray moon, Rubik's cube, and cloud to replace the character's head, thereby bridging the gap between personification and objectification. The combination of big eyes and friendly, dorky facial expressions was also passed on to the subsequent wide-eyed boys series.

Calleja loves reading the works of Nobel Prize winner and playwright Samuel Beckett to seek inspiration or even short sentences to construct images. As Calleja once expressed in an interview, he particularly admires artists, such as Alex Katz, Philip Guston, René Magritte, and Yoshitomo Nara, for their simple yet profound artistic expressions. Dedicated to Italian conceptual artist Maurizio Cattelan and his humorous, satirical philosophy, Calleja re-created the sculpture Little Maurizio in 2019 by adding his own interpretation. In response to comments about seeing Yoshitomo Nara's influence in his works, Calleja said he has also been deeply influenced by his friend KAWS and street artist Barry McGee. Despite his own preference to work in a spacious, quiet studio instead of on crowded streets, Calleja very much admires Barry McGee's interpretation of character portraits. That is why he also applied this symbol to his creation.

The wide-eyed boys in Calleja's works can be considered a reflection of himself. By telling stories in the simplest visual language consisting of a pair of eyes and a slogan t-shirt, the image naturally sparks a dialogue with the audience and fulfills Calleja's hope to convey important messages through art. The big innocent eyes are clear and pure, as if the child stops crying and continues forward after overcoming current difficulties and encouraging themselves to gain an inner resilience. The paintings not only feature slogans like "Don't cry," "never too late," or "here and now," but they also leave blank spaces for viewers to imagine and interpret the painting's stories from their own perspectives. In this way, Calleja continues to innovate in his exhibitions. On one hand, he consistently challenges himself, while, on the other hand, he believes that the experiences of viewers should complement the artistic expression. In the absence of an audience, self-admired art would lose its original intention of "communication."

SELECT session recommends A Little Crazy by Calleja, a piece of work created in 2018, which was displayed at Art Basel, Hong Kong. The boy in the painting wears a blue t-shirt, with naive soft cheeks and blank facial expressions. His round and golden eyes look like crystal clear marbles. Despite having a red nose from crying, the boy smiles with exposed front teeth. Calleja shared this piece of work on Instagram on March 19 of the same year by posting a photo of its completion in the studio with the following caption, "Monday mood...A Little crazy. Coming soon on @artbasel Hong Kong..." Such humor brings a knowing smile to viewers' faces. In addition to being vividly interesting, it also cleverly illustrates Calleja's belief that art can naturally blend into daily life and become deeply rooted in people's hearts without abstruse endorsement.
Select: Modern & Contemporary Art
Ravenel Spring Auction 2021 Taipei
Saturday, July 17, 2021, 12:00am